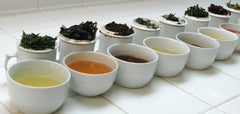 Origins of Tea
This one-week long program focuses on six of the primary tea producing regions of the world. One full day is spent on each region including China, India, Japan, Africa, Sri Lanka with additional coverage of New World regions like Argentina. In addition to cupping dozens of teas per day, students will learn about the history, manufacture variations, bush varietals and cultivars, grading, evaluation, storage, aging, innovations and terroir differences within each region. Students will learn to properly recognize and evaluate several benchmark teas from each region and offer critical comments on quality, manufacture and value.
Held in the ITCC Intl. Tea Training Center, in the beautiful Riviera Maya, Mexico. Following satisfactory completion of all course materials and the final exam, students receive a certificate of achievement from ITCC.
Program tuition includes all training by world renowned tea experts, all course materials, all accommodations for the five days and nights, breakfast and lunch each day, scheduled recreational activities and group airport transfers.
Course fee: $995 per person ($795 for Members). Maximum 8 people.