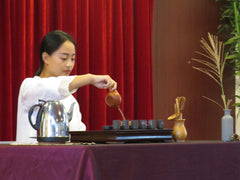 Chinese Tea Ceremony - Demonstration and History
The Chinese Tea Ceremony Demonstration is a 90 minute program exploring the history and culture of the tea ceremony. The program begins with a 60 minute introduction of the history and evolution of the Chinese tea ceremony. Then, world renowned tea expert Dan Robertson performs the traditional Gongfu tea ceremony while giving informative explanation of each step. Taste a specially selected tea as you learn and enjoy ancient Chinese traditions.
Held in the ITCC Intl. Tea Training Center, in the beautiful Riviera Maya, Mexico. 
Program tuition includes all training by world renowned tea experts, all course materials,  tea snacks and pastries. Accommodations for staying at the Center's sea-side resort are also available.
Maximum: 8 people. Registration required.